Our equipments to correspond a wide range of needs
 Our factories owns specified equipments and machinery to manufacture products such as light weight products using, non-woven or fabrics, raincoats with seam tape and heavy weight winter coats. We have a complete maintenance back-up system for these machinery from the equipment manufacturers and suppliers. Mainly with JUKI's sewing machine, we use specified sewing machines for each process of the manufacture which contributes to our production efficiency and customer's delivery requests.
---
・Equipped with CAM + 10 Nonwoven Spreading Machine
Our factories install CAM (Automatic cutting machines) to speed up the cutting process for complex patterns.
For the air-conditioned jackets, which is getting very popular, they require precise cutting for the ventillation, cutting these by hand is very difficult. The CAM cutting machine solves this problem. CAM are installed in both of our factories 。
・Seam Machine (Sealing Machine)
For winter coats, raincoats, protective garments and other clothing for out door activities, seam sealing is a primary issue.
In our factories in Vietnam , we have 30 sealing machines to correspond to large scale orders.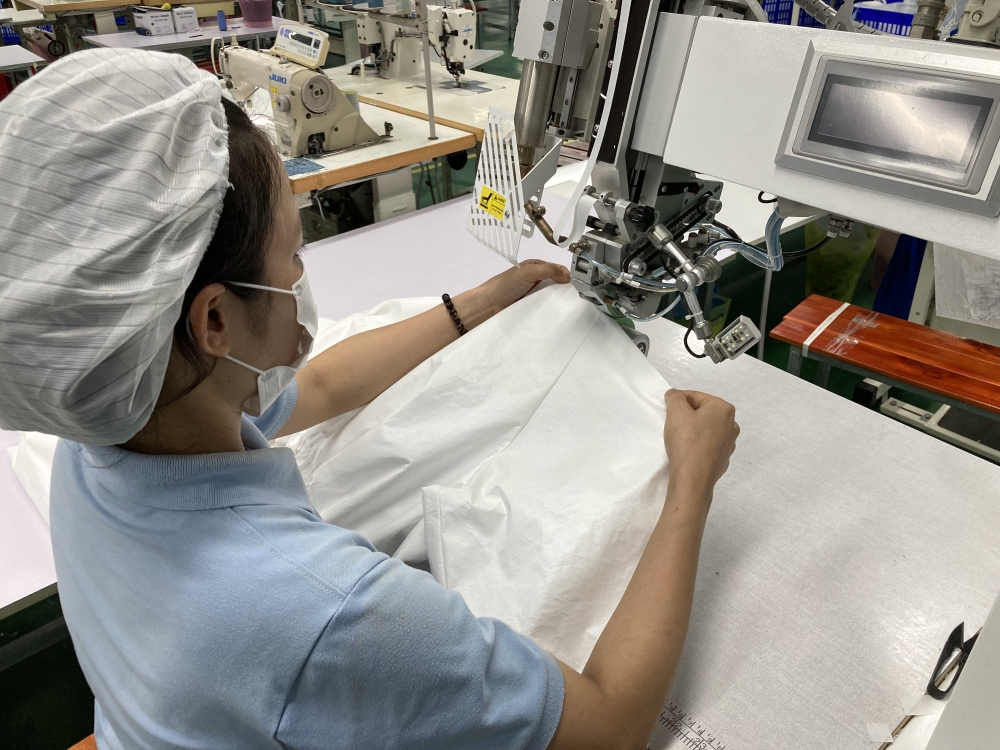 ・Equipment (Total of the 2 Factories)
| | |
| --- | --- |
| LOCKSTITCH (SEWING MACHINE) | 360 |
| PULL ROLLER | 14 |
| GENERAL FEED LOCKSTITCH   (FOR THICK MATERIAL) | 2 |
| DIFFERENTIAL FEED LOCKSTITCH | 4 |
| DIFFERENTIAL VERTICLE FEED LOCKSTITCH | 2 |
| INTERLOCK | 93 |
| OVERLOCK | 116 |
| DOUBLE NEEDLE LOCKSTITCH | 47 |
| DOUBLE NEEDLE BELT LOOP | 10 |
| BAR TACKING | 13 |
| BUTTONHOLE STITCH | 7 |
| EYELET BUTTONHOLE | 5 |
| BELT LOOP | 3 |
| BUTTON ATTACHING | 6 |
| AUTOMATIC BEAD | 3 |
| ALL PURPOSE SCOOPING | 3 |
| COMPUTER CONTROLLED EMBROIDERY MACHINE | 9 |
| FLAT STITCH | 1(Tayson Factory) |
| DART SEAMER | 1(Qui Nhon Factory) |
| SERGING MACHINE | 1(Qui Nhon Factory) |
| SEMI-AUTOMATIC SEWING | 6 |
| ARM DOUBLE CHAIN STITCH | 6 |
| SEALING MACHINE | 30 |
IRON
| | |
| --- | --- |
| IRON | 32(term pressing、finish ironing. With vacuum tables) |
| DESK TOP HEAT PRESS TRANSFER MACHINE | 2 |
| HOFFMAN PRESSING MACHINE (FOR PANT) | 2 |
Needle Detector
| | |
| --- | --- |
| CONVEYOR TYPE | 2 |
| HAND HELD TYPE | 2 |
Others
| | |
| --- | --- |
| CAM AUTOMATIC CUTTING MACHINE | 2 |
| CUTTING MACHINE | 8 |
| 10 CONNECTED SPREADING MACHINE | 1 set (Tayson Factory) |
| HAND HELD CUTTER | 2 |
| DOT BUTTON ATTACHING MACHINE | 5 |
| FRONT HOOK PRESSING MACHINE | 4 |
| CORE PASTING MACHINE | 4 |
| PATTERN MAKING CAD(Toray) | 4 |
| THREAD SUCKING MACHINE | 5 |