Description
Decontamination showers are used to decontaminate victims who have been exposed in the event of an NBC* terrorist attack or accident. It is also intended to decontaminate the active professional rescue personnel, etc., while they are still wearing their protective clothing, so that they do not carry toxic substances into the safety zone.

According to ANSI/ISEA 113, "American Standard for Decontamination Shower Equipment (Stationary and Portable)," stationary showers can be used with ANSI Z358.1 compliant emergency showers, but portable showers have their own specifications and performance requirements.

Our decon showers not only meet the specifications and performance required by this standard, but also have an optimal spray layout based on repeated experimental data.

*(Nuclear/Nuclear Weapons, Biological/Biological Weapons, Chemical/Chemical Weapons)
Specifications
| | |
| --- | --- |
| Dimensions (after assembly) | 110×96×210cm |
| Flow rate | ≧15 Liter/min |
| Water supply pressure | ≧0.2 MPaG |
| Operating temperature | 16 ~ 38℃ |
| Body Material | PVC for waterway, POM, Stainless steel |
| Spray | Top×1、 Side×4 |
| Attached adapter | Compatible with faucets and threaded faucets(G1/2, G3/4) |
| Included carry bag | 110×40×40cm |
| Accessory | Light weight duckboard、Hose (5m)、Hand shower |
| Weight | 20 kg |
Block configuration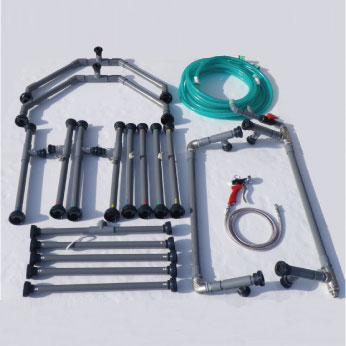 The blocks are designed to be both easy to assemble and easy to store.
The joint parts can be assembled by hand. Color markings are made near the joints, so it is easy to combine the blocks by simply matching the color markings.
Stored in carry-on bag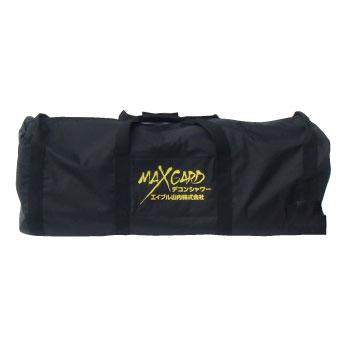 It does not take up much space to keep it on hand. It has handles on both ends to make it easy for two people to carry.
Also consider shower covers to prevent shower splashes, decontamination pools, and drain pipes and tanks to collect sewage from the pool.